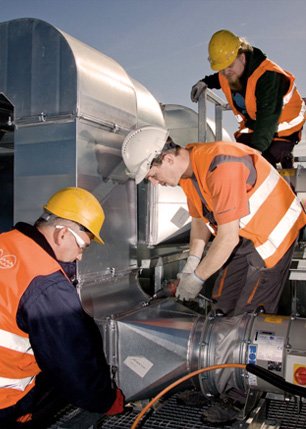 Evotherm commenced its activities in 2008 as a partnership of two companies: Technika Instalacyjna Tomasz Tomasiewicz and Evotherm Mirosław Majchrzak. The development of these entities under one name allowed to build a recognisable brand, consolidate the effects of work of both entities and create a coherent development strategy. The dynamic development of the group led to the formation of Evotherm Sp. z o.o. Sp. k. which has been registered on 28 February 2011 in Wrocław. The company acquired the assets, employees, visual identity, the portfolio of customers, partners and all intellectual achievements of both entities.
Since the company formation, Evotherm has specialised in executing and designing ventilation and air-conditioning installations.
Due to the development strategy adopted in 2010, Evotherm has increased its offer by piping installations. In 2011, we have completed our offer with execution and designing of automation and control installations; we have also executed the first BMS. Nowadays, our company offers services in the full scope of mechanical installations.
Currently, Evotherm Sp. z o.o. Sp. k. employs 50 people. The engineering staff consists of 15 people with higher education, with degree course – Environmental Engineering. The office is run by 5 people in terms of accounting, billing and secretarial services. Manual workers consist of 30 experienced and trained assemblers. We also continuously cooperate with subcontractors which have proven their compliance with the quality requirements of Evotherm.
THE OBJECTIVES AND STRATEGY OF EVOTHERM ARE BASED ON:
Pursuit of Customer satisfaction
Continuous increase of the scope of activities
Attractive prices while maintaining the sustainability of the company
Ensuring high-quality services
Building partnership relations with Custome
Accumulation of funds in the company in order to secure the implementation of major contracts and increase financial liquidity
Continuous increase in employment and development of employees' skills
Modernisation of machinery and equipment
Applying the latest technology
Applying procedures to enhance safety
Applying environmentally sound solutions